SIM's Centre of Systems Leadership Celebrates its First Anniversary
The Centre organised a community learning event that was dove-tailed with the 1st Anniversary celebration of the CSL at the SIM Management House on November 21, 2021. The hybrid event was graced by Professor Lui Pao Chuen, Temasek Defence Professor at the National University of Singapore, and saw over one hundred participants.
Prof Lui was joined by two Systems Leadership practitioners – Ms Gracia Goh from Singapore Children's Society and Mr Tony Soh from National Volunteer Philanthropy Centre. They shared their wisdom and insights on how system leadership could be applied for nation-building and how it could impact society for the greater good. The celebration ended on a high note with the Letter of Appointment presentation to all the CSL's Adjunct Faculty by Mr Seah Chin Siong, PCEO of SIM.
SIM inaugural systems leadership conference promotes systems leadership as much-needed skill for highly disruptive world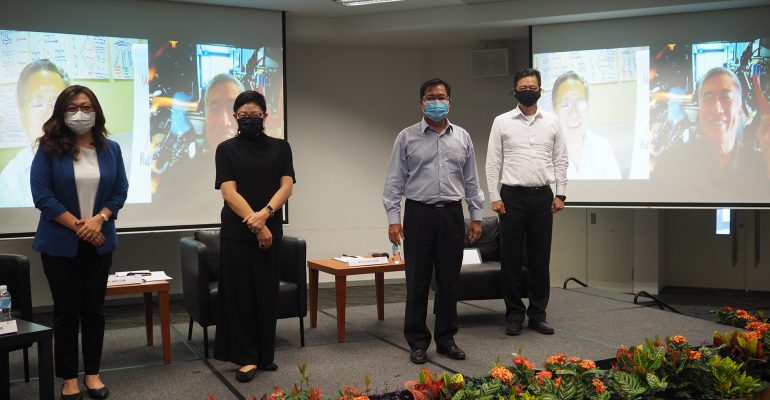 Having dramatically disrupted our world and businesses across all sectors, Covid-19 has heightened the urgency for a better way to understand our problems and the solutions we want to bring to bear. Addressing this need is the Systems Leadership Conference organised by SIM on 22 and 23 February.
The conference was the inaugural event of the Centre for Systems Leadership (CSL) which SIM set up in November 2020 to promote systems leadership as a much-needed skill for a highly VUCAH (volatile, uncertain, complex, ambiguous and hyper-connected) world. Aimed at offering insights into systems leadership and its relevancy to dealing with today's wicked problems, the conference was attended by some 30 senior executives from the public, private and people sectors.
Kicking off with an opening keynote was none other than the topic's guru, Dr Daniel Kim, Organisational Consultant and Facilitator, Co-Founder of the MIT Centre for Organisational Learning and Founding Trustee of Society for Organisational Learning.
Beyond explaining the practice of systems leadership, Dr Kim said having a clarity of purpose is vital to evolve and change organisations. Businesses can no longer work in silos but need to work together to succeed. It is important to create an infrastructure to grow the systems leadership ecosystem, not just the systems leaders, in order to move towards a desired future state.
In his address, Mr Seah Chin Siong, President and Chief Executive Officer of SIM, spoke on CSL's shared purpose – to be a home for Systems Leaders in Singapore and a space for facilitating leadership conversations that can lead to wider sustained, positive systemic changes in our community. He also hopes that through the Centre, practitioners can nurture generative conversations that help organisations build their capacity for the long-term.
Another conference highlight was a panel discussion participated by top leaders Ms Anita Fam, President of the National Council of Social Service and Mr Ng Boon Heong, Chief Executive Officer of Temasek Foundation Ltd. Joining them virtually were Mr Lim Teck Yin, Chief Executive Officer of Sport Singapore and Dr Daniel Kim.
Moderated by Ms Jacqueline Wong, Managing Director and Co-founder of Sequoia Group, the panel discussed challenges in the tri-sectors and the importance of agencies coming together to optimise and solve systemic issues. The panellists closed the session with a call for leaders to lead by example, be open to change and having the courage to let go of models which might have led to past successes but which may no longer work in today's context.
The conference concluded with a visioning exercise where participants built a shared vision for the CSL through pieces of the jigsaw puzzle. Participants depicted their own vision through an image on a blank piece of jigsaw. Their visions form the bigger picture and represent transformation can be achieved when we work together.
SIM Launches Centre of Systems Leadership to train Professionals and Undergrads in handling uncertainty in the post-covid world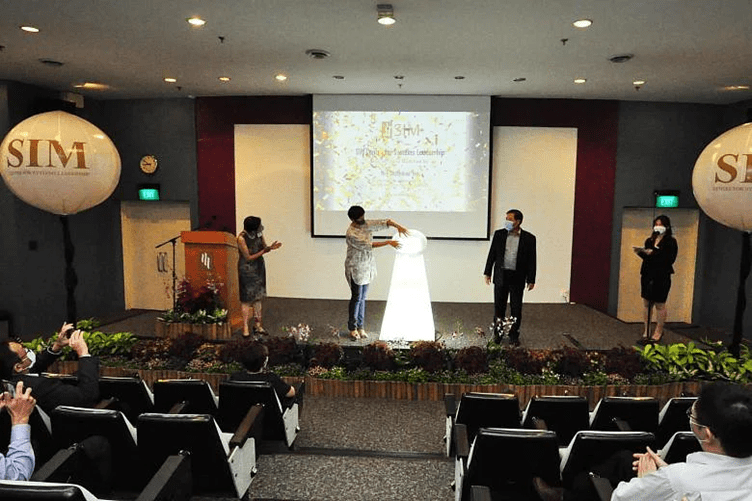 The Centre for Systems Leadership (CSL) was launched on November 12 by Manpower Minister Josephine Teo.
CSL is designed to train Professionals, Managers, and Executives (PMEs) in tackling the challenges that come with the Volatile, Uncertain, Complex and Ambiguous (VUCA) world, with those in the social sector having up to 90 per cent of their course fees subsidised.
SIM CSL will also offer programmes on systems thinking to youth leaders and final-year student leaders doing their undergraduate studies. The first cohort of learners will come from the Movement for the Intellectually Disabled of Singapore (Minds), Metta Welfare Association and Singapore Pools.